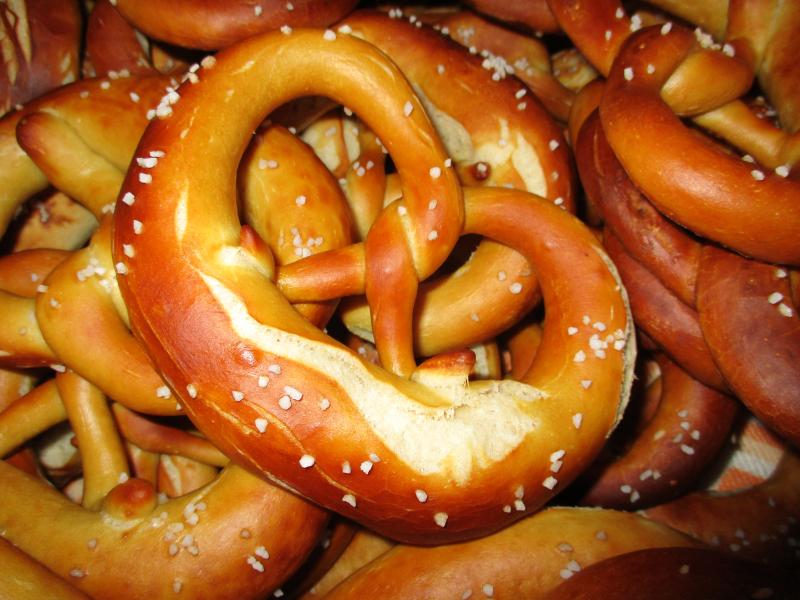 A pretzel (known as Brezel in German) is a pastry made from slightly salted yeast dough dipped in a lye solution prior to baking and decorated with coarse salt. One can eat it just as it is as a snack on the go or as a side dish to soups or sausages. It is a main ingredient for the famous Bavarian Weißwurstfrühstück (breakfast with white sausages and beer). Everybody loves them, but especially children are crazy about pretzels. You should give them some for their recess at school. Pretzels don't last very long; they are best served freshly, i.e. on the day of buying. Pretzels can come in any shape, mainly the classic pretzel shape, but also braided or as bread roll. If you'd like to know the fascinating story behind the pretzel, read on:
The Swabian Pretzel Saga

Frieder, baker of Urach and the courts personal baker fell out of favour with the earl, Eberhard im Barte. As almost always political differences lead to arguments and insults and it was clear as day that Frieder had to bear the consequences. The earl ordered Frieder to his castle and said: "You are a really disgraceful bloke, Frieder. You've got everything you wanted only through my help and now you are insulting me - the earl! There is only one sentence for this crime - the death penalty. You will be hanged at the break of dawn tomorrow!"
Poor Frieder was send to the dark dungeon of the old castle of Urach, which is on top of a large rock high above the city of Urach. Frieder's wife was devastated because she loved her hubby passionately. So what to do? She went to the castle and begged the earl imploringly for mercy for her husband.
Eberhard im Barte wasn't reluctant to temper justice with mercy. He knew very well that, when he gets Frieder hanged he has to go without his delicious pastries. Because he was a good sovereign, he ordered Frieder to the castle and said: "Only because I appreciate your art of bakery, I'll give you a last break. If you invent a cake or bread within three days, through which the sun shines three times and which I like more than everything else I'm aware of, then you'll be free!"
Frieder thanked the earl for this great favour and got down to work immediately. Two valuable days elapsed but no brilliant idea crossed Frieder's mind. On the third and last day Frieder kneaded slightly salted yeast dough, because he knew that the earl wasn't in favour of sweeties. He shaped a noose and had no idea how to proceed. Whilst he wiped the sweat from his forehead, he got a glimpse of his wife. She stood in front of him; her arms folded and determined to make sure, that her Frieder solved the problem.
These folded arms of his wife tried Frieder now to shape into his dough. He noosed and pottered about for a long time, until he got it. He created a roll, slightly thicker in the middle part. This allegorised the body. Then he formed the ends of the roll a bit thinner; that allegorised her arms. He folded these thin arms, exactly as he saw it on his wife. The result was a pretty and artful shape, as it was to expect from him.
Frieder was happy and satisfied; and through the three openings in the shape could even shine the sun if it liked to do so. Frieder ignited a large log-fire in the oven and worked hard to get it to the right temperature. The little kitty slept already all day on her place next to the oven. But now it got way to hot for her and the cat jumped suddenly out of her corner onto the baking tray with the noosed dough pieces. The dough pieces tumbled into a bucket with hot base, which has been made by his wife. She wanted to season fish and soup with the base. The baker's wife told the cat off. Frieder told his wife off. Both fished the dough pieces out of the base and tried to reshape them. "I can these breads only chuck away!" whined Frieder. "Bake them as they are!" adjured his wife - "Time is short!" They hastily spread some coarse salt as decoration on top of the dough pieces. Both sat down in front of the oven and waited in silence and impatient for the end of the baking time. When Frieder fetched the dough pieces with his large wooden bread paddle, both were very astonished. The pieces covered in base were wonderful brown and pale chapped in the middle. The arms were crunchy and the middle was soft like a bread roll.
Frieder hurried as fast as he could to the earl with his fresh, warm bread. The earl sat currently with a glass of Württemberger wine, when Frieder handed over the bread to get it tasted. The room was very quiet. The earl ate silently. His wife nibbled also on the bread. Frieder laid on his knees and felt that his heart and the time were at standstill. Suddenly Eberhard im Barte jumped up and lifted the bread against the window, through which the setting sun shone just in that moment. Indeed, the bread let the sun beam through in three bunches. "How do you call your bread?" asked the earl into the silent room. "I don't know" stammered Frieder, "I thought of the arms of my beloved wife and that I can't hug her anymore when I'm dead! But because I want to honour you forever, dear earl, you should choose a name!"
The earl discussed the situation with his wife, Princess Barbara. Indeed, it is the arms, reflected the earl loudly. And because the princess was very well educated, the Latin word for arms -bracchia- came to her mind. She also mentioned the word "brazula" the name for two intertwined hands. "I can't even enunciate this", dared Frieder to throw in. "Call it "Brazel" then" said the earl and added: "I expect a full basket of Brazel for tea to our castle tomorrow!"
Frieder was so exited that he didn't grasp the full meaning of these words. He ran home and flung his arms crying around his wife's neck. "So your live is saved!" she shouted blithely. Frieder managed it again. His live was saved. He never again bashed his friend and patron, the earl and became a loyal subject, just like everybody else in Urach and Württemberg.